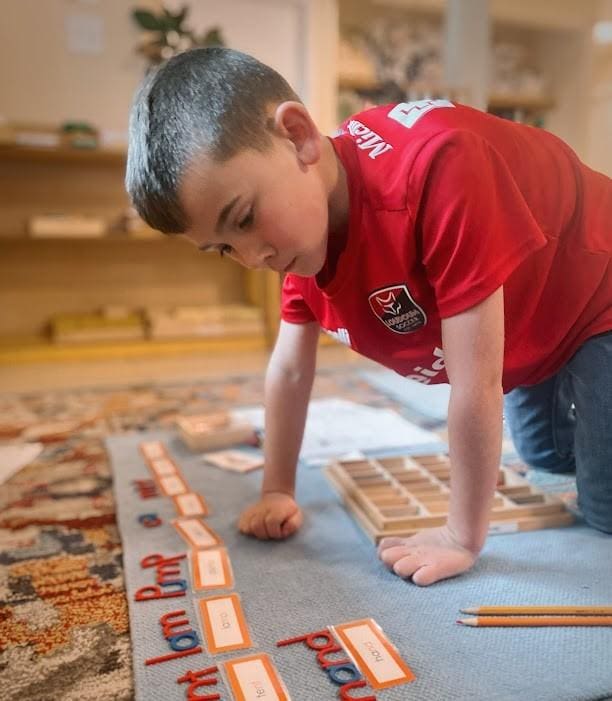 Our Elementary Program serves children in grades 1-3. Montessori and conventional curricula are blended to support children's intellectual and social-emotional growth as they acquire the skills needed to meet state and national standards. One aspect of our program which distinguishes it from other school-ages programs in the region is that it honors children's need for individual pacing and empowers students to actively participate in decision-making related to their own education.
Students and teachers work collaboratively to design work plans that allow students to make choices while developing mastery of essential skills. We promote inquiry, creative problem solving, collaboration and self-regulation by providing the tools and guidance necessary to ensure students' success.

Math
Children master math concepts – from basic operations through squaring and cubing – by manipulating concrete materials until they are ready to move to abstraction. Moving at a pace right for each child, students learn about geometry, problem solving, fractions, time, money, graphing, measurement, long division, and algebraic equations.

Language
The language area includes a comprehensive curriculum, word study (including antonyms, synonyms, homonyms, and compounds, as well as the parts of speech), creative writing, and research skills. Reading of every kind is highly encouraged, as children are introduced to poetry, folk tales, non-fiction, and classic literature. Children are also given many opportunities to read out loud – giving a presentation they have written, or dramatizing the work of another author

Respect
Social development is critical for developing kind, compassionate and responsible adults. Montessori's focus on respect – respect for one's self, respect for others and respect for the environment – is the cornerstone of our curriculum.

Independence
Within a framework of balanced freedom and responsibility, our students make daily choices on their path to independence. This empowers students to actively participate in decision-making related to their own education.

Cultural
Cultural studies provide opportunities to engage in dialogue about the beauty and complexity of our Universe. Children explore the interconnections among life on Earth, learn about traditions and ways of life for people around the world, and find ways to improve their classrooms and global communities in a wide range of ways.